Product development ranks among the core processes of a company. The success of a company is closely linked to the success of its products in the market.
The objectives of the master program Product Development is, therefore, to train future employees to meet specific requirements for developing future oriented products:
this training provides interdisciplinary and intercultural understanding of complex development projects,
work on the interface between product development and the areas of design, sales, marketing, product management, and quality assurance,
take up project management, line management tasks and remain aware of the special responsibility of product development,
carry out independent scientific work and further development on topics of product development,
create opportunities for self-employment with your own ideas.
When people from different disciplines work together, a successful product can be created. The tasks in product development require a profound interdisciplinary understanding. The study program takes advantage of the outstanding interdisciplinary possibilities at the Pforzheim University and offers important contents in engineering, design, business management and law. An interdisciplinary project is therefore an integral part of the study: You will develop innovative concepts together with students from other departments.
Content and Structure of Program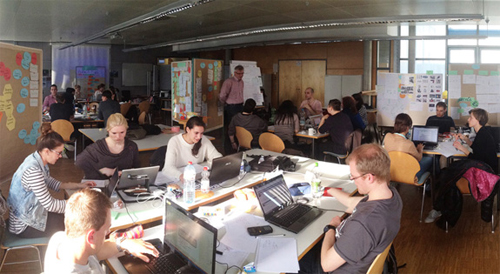 This master's program open to applicants who have successfully completed a first academic degree. It is not only engineers who are interested in the product development process, but also designers who want to deepen their understanding of the development and implementation of products. They too can add relevance to their academic development with our master's program.
The curriculum of the first two semesters consists of four core areas: Methods and tools of the product development; suggestion and implementation of innovations; leading development teams and legal aspects of the product development. Projects are an integral component of the study and establish a connection to praxis. In particular, the interdisciplinary project reflects the working world of a product developer in a team of people from various disciplines. There are no lectures in the third semester. This does not only give you enough time for writing your thesis but also gives you a possibility of doing it abroad.
Regular study duration
3 semesters full-time / consecutive
Language of instruction
German
Admission
Winter semester
Application deadline
15. June, Online application
Number of ECTS
90 ECTS
Study abroad program
Write thesis abroad (optional)
Campus
Tiefenbronner Straße 66
Requirements
Secondary school leaving certificate, university entrance qualification, mastership examination
above average bachelor's degree in the following areas: Mechanical engineering, mechatronics,
engineering and management, electrical engineering, industrial design or related
subjects (see Admission Regulation)
Further documents needed for admission
A current passport size photograph, certified copy of a university entrance qualification certificate,
tabular curriculum vitae, 2-pages motivation letter, 2-pages expose,
1 letter of recommendation/appraisal from an academic institution or from a company,
proof of German language proficiency for non-natives, proof of English language proficiency for non-natives (see Admission Regulations)
Interview
Mandatory participation in an interview after application deadline (June 30)
Number of students admitted
Winter semester: 15
Tuition fees per semester
Student Union fee and administrative cost per semester click Studentensekretariat
Your profile - Prerequisites
You require a bachelor's degree or German Diplom degree in electrical engineering, industrial design, mechanical engineering, mechatronics or engineering and management. This master's program is the right one for you if you want to know how products are created, and you want to significantly deepen your knowledge in product development both scientifically and practically.
"I chose this program Masters in Product Development particularly because of the interdisciplinary orientation of the curriculum." The versatile and diversified content of this program provides an optimal addition to my bachelor's degree in mechanical engineering and allows me to take a broader view beyond own field of study. The MPD class is made up of a small group of students. We have our own master room which is an absolute advantage that helps facilitate our studies."
Alexandra Göhring, student of master's in Product Development
"Studying here in Pforzheim gives me the opportunity to get a deep insight into product development. The link between mechanical engineering and design makes this master's course unique. Thanks to the many options, students have a great influence on their individual studies and can thus specialize in an area. I particularly like the teamwork with my fellow students, which happens pretty much in numerous project work."
Sandro Schüppel, student of master's in Product Development